Link Back To Madhu's Home Page
Link to Hindu Festivals & Celebrations
Link to Deepaawali Greetings For Friends And Family:
Link To Virtual Diwali For All Our Friends:
A Few Deepaawali Songs:
Aamdani Atthani Kharchaa Rupaiyaa
lyrics for Aayi Hai Diwali Suno Ji Gharwaali, Tere Kangane Ne Dil Dhadkaya Hai, Lage Sajna Mera Aa Ra Ra Ra Ra, Lage Sajna Mera Aaj Paglaaya Hai.
Following 3 songs are by Shubha Mugdal:
aaj diwaali mangalchar braj juvti
ghar ghar aangan bajat badhaaii
Link includes the following songs by Rajan & Sajan Mishra: 1.shri ganapati gajaanan vighn haran; 2. maanat parv diwari ko sukh.
Link includes the following songs by By Shubha Mugdal: 1. aaj diwali mangalchar braj juvti gaati; 2. dudh se snaan karo manmohan diwali aayi.
Link includes the following songs: 1. aaj dipat divya deep maalika by Shubha Mugdal; 2. paasaa khelat hain piyaa pyaari by Shubha Mugdal; 3. aayee deewaali; 4. deewaali aayee mangaldaayee.
Link includes the following songs by Rajan & Sajan Mishra: 1. aaj nahaao mere kunwar kanhaiyaa; 2. deepmaan shobhit bhavnan par.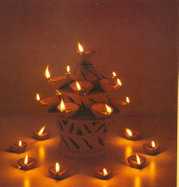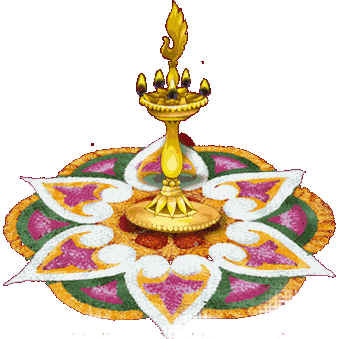 GODDESS LAKSHMI AARTI:
Jai lakshmi maataa, maiyaa jai lakshmi maataa
tumko nishadin dhyaavata, hara vishnu vidhaataa
brahmaani, rudraani, kamlaa, tu hi hai jaga maataa
surya chandramaa dhyaavata, naarada rishi gaataa
durgaa rupaa nirantara, sukha sampati daataa
jo koi tumko dhyaavata, riddhi siddhi dhana paataa
tu hi hai paatala basanti, tu hi shubha daataa
karma prabhaava prakaashaka, jaganidhi ke traataa
jis ghara mein tum rahati, saba sadaguna aataa
kara sake koii kara le, mana nahin ghabaraataa
tuma bina yagya na hove, vastra na koii paataa
khaana paana ka vaibhava, sab tumse hi aataa
shubha guna mandira sundara, kshirodadhi jaataa
ratana chaturdasha tuma hi, koii nahin paataa
aartii lakshmii ji ki, jo koii nar gaataa
ura aananda umanga ati, paap utar jaataa
Deepaawali means an Array of Lamps or Rows of diyas(Deep = Lamp, Wali = Row). Indeed illumination forms its main attraction. Every home is lit with the glow of twinkling diyas (small earthen lamps) to welcome Lakshmi, Goddess of wealth and prosperity. Multi-coloured Rangoli designs, floral decorations and fireworks are part of this festival which heralds joy, mirth and happiness in the coming year. Deepaawali or Diwali night which leads us into Truth and Light is celebrated on a nation-wide scale on Amavasya - the 15th day of the dark fortnight of the Hindu month of Ashwin(October / November)every year. It symbolises that age-old culture of our country which teaches us to vanquish ignorance that subdues humanity and to drive away darkness that engulfs the light of knowledge. Diwali, the festival of lights even to-day in this modern world projects the rich and glorious past of our country and teaches us to uphold the true values of life. Of all the festivals celebrated in India, Deepaawali is the most glamorous. Enthusiastically enjoyed by people of every region, its magical and radiant touch creates an atmosphere of joy and festivity. It is a festival of lights symbolizing the victory of righteousness and the lifting of spiritual darkness. It celebrates the victory of good over evil - and the glory of light. This festival commemorates Lord Ram's return to his kingdom Ayodhya after completing his 14-year exile. Homes are decorated, sweets are distributed by everyone and thousands of lamps lit to create a world of fantasy. Diwali is a time for fun and revelry. Diwali is also a time for pooja and tradition. This festival is celebrated on a grand scale in almost all the regions of India and is looked upon mainly as the beginning of New Year. As such the blessings of Lakshmi, the celestial consort of Lord Vishnu, are invoked with prayers.

The ancient story of how Deepaawali evolved into such a widely celebrated festival is different in various regions of India. In the north, particularly in Uttar Pradesh, Punjab, Haryana, Bihar and the surrounding areas, it is the day when King Ram's coronation was celebrated in Ayodhya after his epic war with Ravan, the demon king of Lanka. By order of the royal families of Ayodhya and Mithila (Sita's father was the king of Mithila), the cities and far-flung boundaries of these kingdoms were lit up with rows of lamps, glittering on dark nights to welcome home the divine king Ram and his queen Sita after 14 years of exile, ending with an across-the-seas war in which the whole kingdom of Lanka was destroyed.

Deeapawali is very enthusiastically celebrated for five continuous days and each day has its significance with a number of myths, legends and beliefs.



Day 1


The 1st day is called DHAN TERAS or DHAN TRAYODASHI which falls on the 13th day of the month of Ashwin. The word "Dhan" means wealth and Teras represents the number 13. As such this 1st day of the 5 day Deepaawali festival has a great importance for the rich mercantile community. Houses and Business premises are renovated and decorated. Doorways are hung with torans of mango leaves and marigolds. Entrances are made colourful with lovely traditional motifs of Rangoli designs to welcome the Goddess of wealth and prosperity. The Rangolis are drawn with different coloured powders. The traditional motifs are often linked with auspicious symbols of good luck. To indicate Lakshmi's long-awaited arrival, small footprints are drawn with rice flour and vermilion powder all over the houses. Lamps are kept burning all through the nights. Believing this day to be auspicious, women purchase gold, silver or at least a new utensil. "Lakshmi-Puja" is performed in the evenings when tiny diyas of clay are lighted to drive away the shadows of evil spirits. "Bhajans" / devotional songs in praise of Goddess Laxmi are sung and "Naivedya" of traditional sweets is offered to the Goddess.

In villages cattles are adorned and worshipped by farmers as they form the main source of their income. In south cows are offered special veneration as they are supposed to be the incarnation of Goddess Lakshmi and therefore they are adorned and worshipped on this day.

A very interesting part of this day is the story of the 16 year old son of King Hima. According to his horoscope he was doomed to die of a snake-bite on the fourth day of his marriage. On that day his young wife kept him awake. She laid all the ornaments and lots of gold and silver coins in a big heap at the entrance of her husband's boudoir, lit innumerable lamps all over the place and she kept on telling stories and singing songs. When Yamraj (the god of Death) arrived in the guise of a snake, his eyes were blinded by the dazzling brilliant lights and he could not enter the Prince's chamber. Yamraj climbed on top of the pile of ornaments and coins and sat there all night listening to the melodious songs. In the morning he quietly went away. Thus the young wife saved her husband from the clutches of death. Since then this day of Dhanteras came to be known as the day of "YAMA DEEP DAAN" and lamps are kept burning throughout the night in reverential adoration to Yamraj.


Day 2

The 2nd day is called NARKA-CHATURDASHI or CHOTI DIWALI which falls on the 14th day of the month of Ashwin. The story goes that the demon king Narakasur ruler of Pragjyotishpur (a province to the South of Nepal) after defeating Lord Indra had snatched away the magnificent earrings of Aditi, the Mother Goddess and imprisoned 16,000 daughters of the gods and saints in his harem. On the day previous to Naraka-chaturdashi, Lord Krishna killed the demon and liberated the imprisoned damsels and also recovered those precious earrings of Aditi. As a symbol of that victory Lord Krishna smeared his forehead with the demon king's blood and returned home in the very early morning of the Naraka-chaturdashi day. The womenfolk massaged scented oil to his body and gave him a good bath to wash away the filth from his body. Since then the custom of taking bath before sunrise on this day has become a traditional practice.

In South India that victory of the divine over mundane is celebrated. People wake up before sunrise, prepare blood by mixing Kumkum in oil and break a bitter fruit that represents the head of the demon King that was smashed by Krishna. They then apply that mixture on their foreheads before having a bath using sandalwood paste.

In Maharashtra also, traditional early baths with oil and "Ubtan" (paste) of gram flour and fragrant powders are a `must'. All through the ritual of baths, deafening sounds of crackers and fireworks are there in order that the children enjoy bathing. Afterwards sweets are served.

Another legend is that King Bali of the nether world mighty power had become a threat to the gods. In order to curb his powers Lord Vishnu disguised as Batu Waman (a small boy), visited him and begged him to give him only that much land which he could cover with his three steps. Known for his generosity, King Bali proudly granted him his wish. That small boy transformed himself into the all powerful Lord Vishnu. With his first step Lord Vishnu covered the entire heaven and with the second step the earth and asked Bali where to keep his third step. Bali offered his head. Putting his foot on his head Vishnu pushed him down to the underworld. At the same time Lord Vishnu gave him the lamp of knowledge and allowed him to return to earth once a year to light millions of lamps to drive away darkness and ignorance and spread the radiance of love and wisdom. This Naraka-chaturdashi day is dedicated to lights and prayers heralding a future full of joy and laughter.

It is also called Kali Chaudus since prayers are offered to the Goddess Kali, who is another form of the Goddess Durga or Shakti on this 14th day of the Hindu month. Chaudus means 14 (chaar = 4 and dus = 10).


Day 3

The 3rd day of the festival of Diwali is the most important day of LAKSHMI-PUJA which is entirely devoted to the Goddess Lakshmi. This day is also known as "CHOPADA-PUJA". The day of Lakshmi-Puja falls on the dark night of Amavasya. The strains of joyous sounds of bells and drums float from the temples as people call out to Goddess Lakshmi, who comes in all her celestial glory amidst chantings of Vedic hymns. She envelopes the entire world in that blessed moment of fulfillment of a long-awaited dream. A light of knowledge dawns upon humanity and devotion finally conquers ignorance. This self enlightenment is expressed through the twinkling lamps that illuminate the palaces of the wealthy as well as the lowly abodes of the poor. It is believed that on this day Lakshmi walks through the green fields and loiters through the bye-lanes and showers her blessings on man for plenty and prosperity. When the sun sets in the evening and ceremonial worship is finished all the home-made sweets are offered to the goddess as "NAIVEDYA" and distributed as "PRASAD". Feasts are arranged and gifts are exchanged on this day gaily dressed men, women and children go to temples and fairs, visit friends and relatives. Everything is gay, gold and glitter!

One of the customs which characterises this festival of Deepaawali is the gambling, specially on a large scale in North India. It is believed that goddess Parvati played dice with her husband, Lord Shiv on this day and she decreed that whosoever gambled on Deepaawali night would prosper throughout the ensuring year. This tradition of playing cards - flush and rummy - with stakes on this particular day continues even today.


Day 4

The 4th day is PADWA or VARSHAPRATIPADA which marks the coronation of King Vikramaditya and Vikaram-Samvat was started from this Padwa day. Govardhan-Puja is also performed in the North on this day. According to Vishnu-Puran, the people of Gokul used to celebrate a festival in honour of Lord Indra and worshipped him after the end of every monsoon seaso. One particular year the young Krishna stopped them from offering prayers to Lord Indra who in terrific anger sent a deluge of rain to submerge Gokul. But Krishna saved Gokul by lifting up the Govardhan mountain and holding it over the people as an umbrella. Govardhan is a small hillock in Braj, near Mathura and on this day people of Punjab, Haryana, Uttar Pradesh and Bihar build hillocks, decorate them with flowers and then worship them.

This day is also observed as Annakoot meaning mountain of food. In temples, specially in Mathura, the deities are given a milk bath, dressed in shining clothes with expensive ornaments of dazzling diamonds, pearls, rubies and other precious stones. After the prayers and traditional worship sweets are ceremoniously raised in the form of a mountain before the deities as "Bhog" and then the devotees approach the mountain of food and take Prasad from it. In many Krishna temples, Diwali is celebrated as a day of feeding and venerating cows. In Nathdwar, for instance, there is a day-long feast for cattle. The reason for this special place given to the cow lies deep in the religious consciousness of Indians. The sacredness of the cow goes back to the myth of the churning of the cosmic ocean by the gods. Of the 14 `jewels' which the ocean gave to the gods, Kamadhenu (the celestial cow) was one. The celestial cow is also called Surabhi or Nandini, the giver of joy and plenty. A cow is the constant companion of Krishna.

Goddess Lakshmi is worshipped in every Hindu household and her blessings sought for success and happiness. This day is looked upon as the most auspicious day to start any new venture. On this day newly-married daughters with their husbands are invited for special meals and given presents. In olden days brothers went to fetch their sisters from their in-laws home for this important day.

The day after the Lakshmi Puja, most families celebrate the new year by dressing in new clothes, wearing jewelry and visiting family members and business colleagues to give them sweets, dry fruits and gifts. Among the business communities of Gujarat, Rajasthan, Madhya Pradesh and Maharashtra, Deepaawali is the festival when the new business year begins. All business establishments and families perform muharat pujan or veneration of their books. Stock brokers do mahurat trading or symbolic auspicious business deals.

Day 5

The 5th and final day of Deepaawali Festival is known by the name of "BHAIYA-DUJ" in the Hindi speaking belt; "BHAV-BIJ" in the Gujrati and Marathi-speaking communities; Bhai Phota in Bengal; and "BHAI-TIKA" in Nepal. As the legend goes Yamraj, the God of Death visited his sister Yami on this particular day. She put the auspicious tilak on his forehead, garlanded him and both of them together ate the sweets, talked and enjoyed themselves to their heart's content. Yamraj gave her a special gift as a token of his love and in return Yami also gave him a lovely gift which she had made herself. That day Yamraj announced that anyone who receives tilak from his sister will be safe. That is why this day of Bhaiya-duj is also known by the name of "YAMA-DWITIYA" Since then this day is being observed as a symbol of love between sisters and brothers. It became also imperative for the brother to go to his sister's house to celebrate Bhaiya-duj. In today's world, the celebrating of this day has its own importance in continuing to maintain the love between brothers and sisters for it is the day of food-sharing, gift-giving and reaching out to the inner most depths of the hearts.

Deepaawali on the whole has always been the festival with more social than religious connotations. It is a people oriented festival when families and friends meet, enjoy and establish a word of closeness. As a festival of light and beauty it encourages artistic expressions. As a result various communities with varying cultures and customs mingle together to make Deepaawali celebrations a very happy occasion for all. This is a time when everything in India comes to a stand still except family life, feasting and shopping. Deepaawali is considered auspicious for shopping, new homes, business deals or for starting any new ventures and projects. Whatever may be the legends behind the celebrations of Deepaawali, all people exchange sweets, wear new clothes and buy jewelry at this festive time. Card parties are held in many homes. Deepaawali has become commercialized as every family shops for sweets, gifts and fireworks. However, in all this frenzy of shopping and eating, the steady, burning lamp is a constant symbol of an illuminated mind.